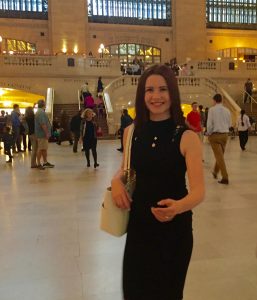 Julia Mariani began Astronomy for Teens at just 14 years-old. Combining her passion for writing, astronomy, educational outreach, and coding over the past three years allowed the blog to transform into a community that continues to grow based on the organization's primary principle: inspiration for the next generation.
"Astronomy always has and will continue to amaze me," she says. "Growing up, whenever I looked through a telescope at, for example, Jupiter and the Galilean Moons, a wave of curiosity would wash over me. I wondered how could something so immense such as a planet exists so far away. What secrets did it hold? Could I go there someday?" As a child, Julia was not yet familiar with the complex mechanisms of space travel. Her education in astronomy was based on self-driven research through reading and stargazing.
"School never taught me or my peers about the wonders of the galaxy.  Since receiving an extremely limited formal education on astronomy in elementary school, I figured there must be a course or two in high school. I was shocked to see there were none.  So, winter of freshman year, armed with a computer, a self-education in astronomy, and a knack for writing, I created Astronoteen. I wanted to help teenagers like myself learn more about astronomy if it felt like they were limited by their education system. Nobody should feel that way."
Aside from her position as founder and writer of Astronomy for Teens, Julia also writes poetry and volunteers with the TISCH Multiple Sclerosis Research Center of New York. In her most recent poetry book, Feel the Breeze, all the royalties go the Center's research to find a cure for multiple sclerosis. She enjoys skiing, tennis, running, and considers herself in a committed relationship with books.
Now a senior in high school, Julia sees this as only the beginning of Astronoteen's success. With acclaimed organizations such as the NASA Goddard Spaceflight Center, the Canadian Space Agency (CSA), and StarTalk Radio Show following the blog, it only cements the importance and need to educate teenagers on such a fascinating and awe-inspiring subject.
Her one piece of advise to new astronomers:
"Keep looking up."